Overview
Introduction
B.Com is an under-graduation course is a full time course of 3 years duration having 6 semesters approved by Savitribai Phule Pune University. The B.Com degree Course will consist of six semesters divided into three Years with a choice based credit system. The examination will be held at the end of each semester. Indira College of Commerce and Science (ICCS) accredited with 'A' grade by "National Accreditation and Assessment Council'' (NAAC) is one of the top colleges in Pimpri-Chinchwad and Pune. The course teaches the students about the higher-level concepts in the domain of Commerce.
The course helps to provide with required knowledge, skills and attitudes for handling training, trade and industry and thus develop leaders, managers and professionals.
It caters to the growing needs of the business society and to gain enterprise-level excellence, making the students well acquainted with the concepts of Accounting, Management, Economics and so on and provides advanced knowledge in Cost Accounting & Marketing Management.
Nurture the students in intellectual, personal, interpersonal and societal skills with a focus on Holistic Education thereby enlarging of employability.
Pursuing Professional courses simultaneously
CA, CMA, CS
MPSC, UPSC, Competitive Exam
Computer Courses
Foreign languages
Any other short term courses
Unique Program features
Mock stock market operations
Hands on skill
Analysis of latest industry case studies
Industrial exposure
Guest sessions and workshops by Industry and stock exchange personnel
Competitive Examination Centre
Short term value added courses
Internship
What is covered in the course?
Interactive live lectures
Self-learning with facilitator
Case Studies
Group discussions & Peer learning
Role Plays
Seminars and Presentations
Simulation Exercises
Current Affairs Sessions relevant to the topic etc.
Usage of ICT
Compulsory service learning and self-learning module
Assessment Methods
Quiz Sessions
Assignments
Field study reports
Periodic Tests
Market review
Article and news review
Group discussions
Mock interviews
Tie Ups: Elite school of Professional accountants( GST), US-CMA, CCA( TALLY) etc
Community outreach programs
Pre placement activity
Where will I study?
The well-architected campus is spread over 5 acres with independent departments, spacious classrooms, well equipped library with a vast collection of books, latest journals and periodicals and a huge collection of CD's, laboratory with all new acquainted technical configurations. A well designed auditorium having capacity of 540 persons with all new technical equipments is the main highlight in which various programs i.e. academic and cultural are carried out, hostels for girls and boys having capacity of approx 690 students. Sports facilities are also availed by students which comprises of a sports room in which Table Tennis, Carrom, Chess, and various other games are played by students
Accreditation
NAAC is an autonomous instituting established by the UGC in 1994. The aim of NAAC is to assess and accredit institutions of higher learning with all objective of helping them to work continuously to improve the quality of education. ICCS has been accredited with 'A' grade by "National Accreditation and Assessment Council" (NAAC) with 3.12 under CGPA in Feb 2015.
The course component will provide with learning Outcome
On completion of First Year B.Com
Gain skills about computerised accounting, GST, application of accounting concepts and learn about the finalisation of accounts of establishments.
Gain insights on microeconomics by interpretation through charts and graphs, understand theories of microeconomics and their applications in real life.
Able to understand applications of statistics and mathematics analyse data by use of elementary statistical methods to provide for business solutions.
Understand the fundamentals of banking and banking operations
Gain knowledge about the practicability of the field of marketing and its role in business.
Understanding the importance of entrepreneurship in the economy and acquire entrepreneurial competencies
On Completion of Second Year B.Com
Excellent knowledge to provide with an ability to lead, make decisions and work in a team with a sound base of management knowledge.
Capacity to make effective communication and gain the skill of business correspondence, presentation, report writing, and develop interview skills.
Understand valuation of shares, debentures goodwill, its accounting procedure, company final accounts. Familiarised with the regulatory framework for companies in India
Enable to think in innovate ways though the manifestation of events and college fest, acquire competence through academic course and co-curricular activities
On Completion of Third Year B.Com
Acquaint themselves in the preparation of bank final accounts, costing aspects, basic legal concepts and Indian legal environment, Indian tax system and marketing management skills and so on.
Equip with managerial and entrepreneurial skills and competence with the academic learning, co-curricular activities and enable to think in innovative ways through manifestation of events and college fest.
Indicating social responsibility sensation and gender sensitization through extra curricular activities and extension activities enabling them to be socially responsible citizens with demonstrating high human and ethical values.
Exercise critical thinking with the use of academic knowledge to be used for successful employment.
Why choose us?
Dedicated and Highly Qualified and experienced faculties, adopting innovative teaching-learning methods
well established placement cell with activities, placement assistance for every student and excellent placement records
Well-established placement cell and placement activities
Tie Up with international institutes like Asia Pacific University, Malaysia, Synergy University Moscow, Russia under which the International Tours for Students is organized
Tie up with Elite, College of Computer accounts and others to provide various value-added short term courses like GST, Tally, financial markets, hardware assembling and foreign languages like French and German
Guest lectures, seminar, workshops, student conference with the help of Industry experts, Alumni and resource persons
Active participation of alumni for providing guidance regarding preparation for interviews, group discussion and guest lectures.
Research Centre that promote research initiatives and cultivation of research culture through various workshops, lecture series, Research Exhibition, Student Conferences Revelation and National conference "kalpaSameeksha"
Various exposures to students to participate in state level, Intra collegiate and Inter Co-curricular activities and competitions like State Level Shankar Rao Debate Competition, IMun, Youth Parliament, Commerce Week, Currency exhibition, essay competition, etc.
Outdoor management Training for freshers
Industrial visits to Maratha Chamber of Commerce, Jawaharlal Nehru Port Trust, Bombay High Court, Cotton King, Etc.
Foreign Educational tours (Russia-Synergy Moscow University), Malaysia -Asia Pacific University)
Extracurricular activities like Gusto( College Fest), social awareness camps, Blood Donation camp, tree plantation, Women's safety workshop eco-friendly Ganpati idol making, cleanliness drive, association with Rotary Club etc.
Indira Sustainability Maharashtra Initiative also supported by Alumni's to help Financially deprived wards of farmers who have committed sucide due to drought situation
Support and encouragement to students to participate and excel in many district, State National and International level Sports, Drama and other competitions.
Well Equipped Infrastructure having
Well Stacked Library
Well equipped Computer Labs
Cafeteria
basketball court
care club
dance studio
AC Auditorium
Modern Gymnasium & Sports Facilities
Wi-Fi Enabled Campus
Hostel Facilities
Our Facilities
ICCS is in the process of obtaining full autonomy and this has provided us with an opportunity to expand our infrastructure. We are constantly working towards providing the best learning facilities to our students in order to ensure their success. ICCS is at the Universe Campus in Tathawade. As an IT student, you have access to networked laboratories equipped to industry standards and running the latest software, giving you the best possible introduction to the technologies you will encounter in the world of work. Our laboratories enable you to work with the dedicated facilities provided for systems analysis, computer networks, programming in a wide range of languages, artificial intelligence, modelling and visual programming, e-commerce and .net environments, and business intelligence, as well as supporting the application areas of mechatronics, games technology, electronics and computer forensics.
Computer Lab
The computer lab at ICCS is spacious, fully air-conditioned and wellplanned facility consisting of more than 300 systems of which the major share is contributed by advanced machines. The lab has the latest hitech configuration of hardware and software, multimedia kits and an additional Programming Lab exclusively for developing programming skills
Computer Hardware and Networking Lab
The main objective of the lab is to provide the students the knowledge of internal computer hardware and external peripherals. The students are trained for the assembly and disassembly of PCs. They also gain hands on experience in hardware assembly, network design and operating system installation.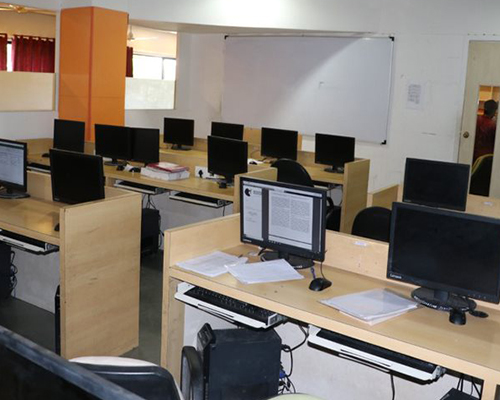 Cyber Security Lab
The cyber security lab provides you the best grade of hardware, software, services, data transmission accessories, and advanced forensic devices for specialized digital forensics. Working with these essential components add experience towards forensic investigation of digital data evidence gathered in the forms of hard disks, flash drives, RAM, circuits, or even cloud storage. While most of the equipment is to help in evidence analysis, others offer preservation and prevention of evidence tampering. Ethical hacking and prevention techniques can be practiced here.
Electronics Lab
The electronics lab at ICCS is equipped with all the necessary instruments and components such as digital storage oscilloscopes, cathode ray oscilloscopes, function generators and more. The lab has all the necessary software and tools to study digital and electronic systems, device architecture and analysis.